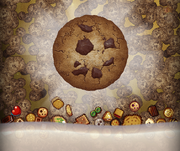 Toys are interactive, physics-enabled objects that can appear in the left panel when Cookie Clicker loads.
Appearance
There are two types of Toys, one which takes on a textured image (similar in style to the Big Cookie), and one which takes on the image of a particular Cookie Upgrade. Toys appear in the left panel with the Big Cookie, and appear to float on the Milk. Toys have a 1/10,000 (0.01%) chance of appearing when the game loads, making them one of the rarest occurrences in Cookie Clicker. There were supposed to be marshmallow sprites for the toys as well, as revealed by Orteil in an AMA on Reddit,
Toys can be activated through console commands. Simply type this in the console:
Game.TOYS=1
Gameplay
Toys are physics-enabled objects, and they can be seen floating on the surface of the Milk. Toys can collide with one another, causing them to rotate and to move around within the left panel. Reloading the page will cause them to disappear, so if you can, take a screenshot of the rare occurrence.
Toys can also be picked up and moved by clicking and dragging them with the mouse cursor.